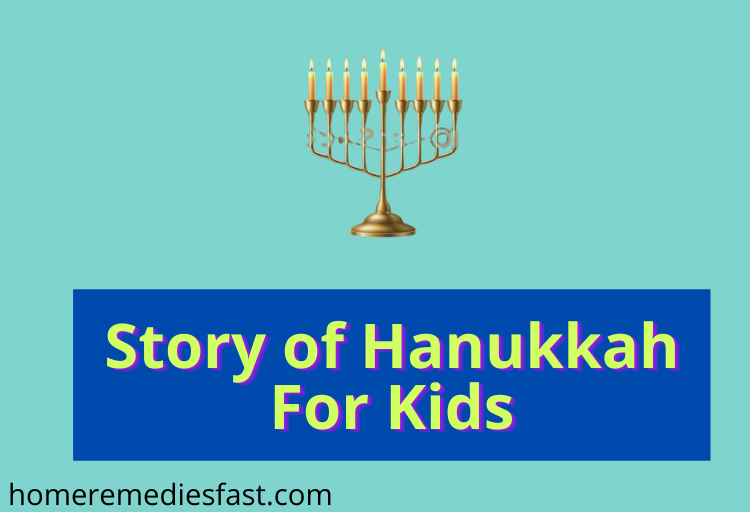 Story of Hanukkah For Kids: Friends, today we are going to share you the story of Hanukkah. Hanukkah is festival of lights. This festival celebrated every year for eight days. We share story behind Hanukkah festival that why this festival is celebrated by Jewish.

It was a long time ago that there were Jews living in Israel. They were very hardworking. They used to work on their land to make a living. They had a temple on that all the Jews believed a lot. There was a menorah that was lit with oil. It used to light up the temple.
At that time Israel was ruled by a Greek king Antiochus, he hated the Jews. One day the king ordered the soldiers to drive the jewis from there and destroy their temple. After the king's order all the soldiers started driving the Jews from there and they also ransacked the temple of the Jews.
All the Jews started running away from there. one of the Jews whose name was Judah, He told the other Jews that in this way we should not give up in front of the soldiers of Greek king. We should fight these soldiers.
He gathered some Jews and provided weapons to fight the soldiers. The team of people that Judah prepared to fight the Greek soldiers is known as the Maccabees.
Maccabees fought with Greek soldier and defeated them. After that all the Jews returned. When they went to see their holy temple. It was devastated.
The Jews corrected it again. When they searched a lot, they found the menorah. They could not find oil to put in the menorah. After some time they found a small jar of oil, they illuminated the temple by pouring oil in the menorah.
This oil was enough for only 1 day but Jews were given oil in menorah everyday to illuminate the temple. Menorah oil was enough for only one day. The Jews used to pour oil into the menorah daily to light the temple.
It took at least 8 days for the Jews to extract the oil. Jews engaged in oil extraction. But the oil filled in the menorah through the small jar lasted surprisingly for 8 days and continued to illuminate the temple.
The Jews then received oil to pour into the menorah. Hanukkah festival is celebrated for the defeat of Greek soldiers by the Maccabees and the burning of the menorah for 8 days with the help of small jar.
Final words:
We hope that you have liked the article Story of Hanukkah For Kids, The Story of Hanukkah. You can share this story with your friends and relatives so they can understand the story behind Hanukkah festival.
Read also:
Jesus Christ Story in English of Birth, Death 2021
Greedy Dog Story in English Written Short for Class 1,2,3,4,5,6,7